Main content starts here, tab to start navigating
Menus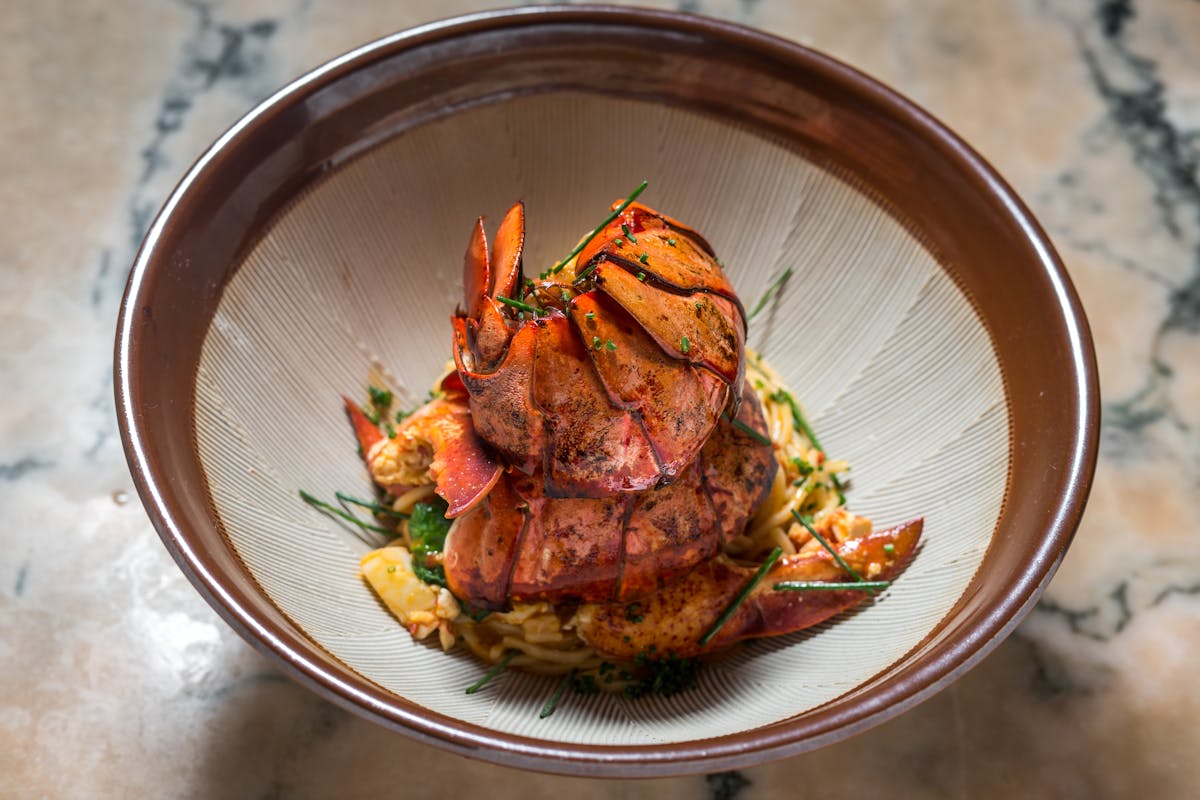 SMALL PLATES
Dumplings

steamed or fried

Shrimp & Scallion

Chicken & Pork Belly

Seasonal Vegetable

Oysters on The Half Shell

leche de tigre mignonette

Mushroom & Truffle Croquettes

gruyere, parmesan

Blistered Shishito Peppers

lemon, herbs

Char Siu BBQ Baby Back Ribs

toasted garlic, scallion

Steamed Mussels

ginger, pea shoots, coconut saffron broth

Charred Octopus

salsa verde, pine nut, black vinegar

Burrata

roasted peppers, capers, oregano

Tuscan Kale Salad

potato crouton, parmesan, smoked paprika vinaigrette

Spicy Market Greens

granny smith apple, baby red beets, almond sesame granola, sweet soy balsamic vinaigrette
LARGE PLATES
African Chicken

piri piri, ginger sesame slaw, peanut curry sauce

Pan Roasted Pork Chop

sweet potato mash, zucchini, hoisin barbecue

Grilled Skirt Steak

chinese broccoli, crispy potatoes

PORTERHOUSE FOR TWO

baby bok choy, fingerling potatoes, truffle butter

Macanese Steamed Fish

mushroom broth, baby bok choy, hot ginger oil

Crispy Whole Fish

wok fried coriander long beans

Dry Aged Black Angus Burger

cheddar, crispy onions, charred scallion aioli
NOODLES
Macanese Lobster Noodles

shanghai noodles, kale, chili beurre blanc

Ants Climbing The Tree

glass noodles, minced pork, mushrooms, snow peas, chilies

Hoisin Hakka Noodles

seasonal vegetables, lo mein, tiger salad
RICE
Fried Rice

bacon & shrimp

vegetable

Coconut Black Rice

edamame

Jasmine Rice
SIDES
King Trumpet & Oyster Mushrooms

ginger, garlic

Wok Fried Long Beans

coriander

Sichuan Eggplant

hoisin

Baby Bok Choy

garlic
20% Gratuity May Be Added to Parties of Six or More.
DESSERT
MALASADAS

dulce de leche, yuzu anglaise

COCONUT PANNA COTTA

strawberry-raspberry coulis

GELATO & SORBET

seasonal selection
TEA
PARIS

black

DRAGON PEARL JASMINE

green

MINT VERBENA

herbal

CHAMOMILE

herbal
LATE NIGHT
DUMPLINGS

steamed or fried

Shrimp & Scallion

Chicken & Pork Belly

Seasonal Vegetable

OYSTERS ON THE HALF SHELL

leche de tigre mignonette

MUSHROOM & TRUFFLE CROQUETTES

gruyere, parmesan

BLISTERED SHISHITO PEPPERS

lemon, herbs

AFRICAN CHICKEN BITES

green papaya salad, coconut-curry peanut sauce

CRISPY SALT & PEPPER SHRIMP

saffron aioli

CHAR SIU BBQ BABY BACK RIBS

toasted garlic, scallion

HOISIN HAKKA NOODLES

seasonal vegetables, lo mein, tiger salad

DRY AGED BLACK ANGUS BURGER

cheddar, crispy onions, charred scallion aioli

FRIED RICE

Bacon & Shrimp

Vegetable
FANCY COCKTAILS
PAPA MACAO

Patron Sherry Cask Añejo shaken with Espresso, House Five Spice Pistachio Syrup, & Nutmeg; served up.

CAST AWAY

Russell's 10 Year Bourbon & Grand Marnier shaken with Spiced Pear Liquor, Muddled Ginger, Cranberries, Orange, & Lime; served straight up.

GOMASURI

Iichico Sochu & Ancho Reyes Verde shaken with House Grapefruit Cordial, Lime, & Sesame; served tall over an ice spear; finished with soda.

SAN JUAN

Zacapa 23 Rum & Baker's 7 Bourbon stirred with Aromatic Bitters & Spiced Vanilla Demerara; smoked with Cinnamon.
HOUSE COCKTAILS
MACANESE GIMLET

Kaffir Lime infused Gordon's Gin mixed with Lime, Agave, & Green Chartreuse mist; served straight up.

MATA HARI

Pierre Ferrand 1840 Cognac with Chai infused Vermouth, Pomegranate, & Lemon, shaken; served straight up.

MAH-JOHNG

Kikori Japanese Whisky stirred with Carpano Antica Formula, Ginger infused Mandarine Napoléon, & Macao Five Spice Bitters; served straight up.

SWEET JANE

El Tesoro Tequila & Aperol shaken with Guava, Pineapple, Lime, Ginger, & Angostura Bitters; served over crushed ice.

DR. FUNK

Ten-to-One Rum Shrub served tall with House Grenadine,Lime & Cucumber Tonic; dressed with Fresh Fruits & Mint; topped with a drizzle of Absinthe.

WESTSIDE

Charbay Meyer Lemon Vodka with Mint & Lemon; served straight up with a splash of soda.

SAGE AGAINST THE MACHINE

Avua Amburana Cachaça & VIDA Mezcal shaken with Allspice, Blood Peach Purée, Honey Sage Syrup & Lime; served tall & finished with soda.

BASHFUL MAIDEN

Roku Gin shaken with St. Germain Elderflower Liqueur, Velvet Falernum, Melon Purée, & Lemon; served straight up.

THE ODD JOB

Wild Turkey Rye 101 stirred with Galliano L'Autentico & Fernet Branca, served straight up.

THE HONG KONG COCKTAIL

Tapatio Tequila Reposado shaken with Ruby Port, Pandan Syrup, Lemon, & Spicy Bitters; served straight up.

GIN TONICO

Tanqueray Gin, Fresh Fruit, Herbs & Spices; served in a Burgundy Glass; topped with Fever Tree Tonic.

DRUNKEN DRAGON'S MILK

Charbay Green Tea Vodka shaken with Coconut Purée, Thai Basil, Lime, & Pandan Syrup; served tall over crushed ice; finished with Macao Five Spice Bitters.
WHITE
VINHO VERDE

Gatao, Portugal

CHARDONNAY

Felisia, Italy

PINOT GRIGIO

Marco Felluga, Mongris, Italy

SAUVIGNON BLANC

Francois de la Roche, Loire, France
ROSÉ
ROSÉ

Aromance, Domaine-Fredavelle, Provence
RED
SYRAH BLEND

Joao Ramos, Alentejano, Portugal

PINOT NOIR

Westmount, Oregon, U.S.A.

MONTEPULCIANO D'ABRUZZO

Nestore Bosco, Nocciano, Italy

GRENACHE BLEND

Chateau Puech-Haut, France

CARMENERE

Terranoble, Valle de Colchagua, Chile
SPARKLING
PROSECCO

Zardetto, Veneto, Italy

CAVA BRUT ROSÉ

Alta Alella Mirgin, Spain

MOËT & CHANDON IMPERIAL RESERVE

Champagne, France, N.V.

LAURENT PERRIER ROSÉ BRUT

Champagne, France, N.V.
BOTTLED BEER
CORAL

Portugal

TSING TAO

China

LAGUNITAS IPA

U.S.A.
RED
Trousseau

Pierre Richard, Juro, France, 2020

Malbec

El Enemigo, Mendoza, Argentina, 2018

Tempranillo Gran Reserva

C.V.N.E., Rioja, Spain, 2016

Carmenere

Terranoble, Valle de Colchagua, Chile, 2018

Gamay

Terres Dorees, Fleurie, France, 2020

Chinon

Olga Raffault, Loire, France, 2016

Brunello di Montalcino

La Gerla, Tuscany, Italy, 2017

Zinfandel

Seghesio, Sonoma, California, 2018

River Road Ranch

Trione, Russian River, California, 2017

"Block 21"

Trione, Alexander Valley, California, 2018

Vega Sicilia

Valbuena 5, Ribera del Duero, Spain, 2014
WHITE
Uivo, "Moscatel Galego Branco"

Folias de Baco, Duoro, Portugal, 2021

Ribolla Gialla

Luisa, Friuli, Italy, 2018

Quinta do Louridal

Alvarinho Reserva, Minho, Portugal, 2018

Grüner Veltiner, "Purus"

Weszlei, Kamptal, Austria, 2014

Chenin Blanc, "The Terrace"

McCormick, Clarksburg, California, 2021

Viura, "Placet"

Palacios Remondo, Rioja Baja, Spain, 2016

Châteauneuf du Pape

Chante Cigale, Rhône, France, 2021

Pietranera

De Bartoli, Sicily, Italy, 2021

Riesling, "Troken"

Immich, Mosel, Germany, 2014

Sauvignon Blanc Heritage, "Animo"

Mondavi, Napa, California, 2019

Chardonnay, "Unfiltered"

Newton, Napa Valley, California, 2018
SPARKLING
Prosecco

Zardetto, Veneto, Italy

Cava Brut Rose

Alta Alella Mirgin, Spain

Cava Brut Nature

Alta Alella Mirgin, Spain

Vouvray Brut

Champalou, "Méthode Traditionelle," France
NON VINTAGE
Veuve Clicquot "Reserve Cuvée" Brut

Moët & Chandon Imperial Reserve

France, N.V.

Piper-Heidsieck Rose

Laurent Perrier Rose Brut

Perrier Jouet Blanc de Blancs

Ruinart Brut Blanc de Blancs
VINTAGE & TÊTE DE CUVÉE
Veuve Clicquot La Grande Dame 2006

Dom Pérignon 2012

Krug Grand Cuvée 168ème Édition

Bollinger RD Extra Brut 2002
Porto
Dow's Fine Ruby

Dow's Fine White

Quinta do Infantado 10yr Tawny

Ramos Pinto 10yr Tawny

Taylor Fladgate 20yr Tawny

Cálem Colheita 1983

Kopke Colheita 1975

Dow's Vintage 1985

Cálem Colheita 1966

Taylor Fladgate 30yr Tawny

Sandeman 40yr Tawny

Kopke Colheita 1967
Madeira
Leacock's Rainwater

Henriques & Henriques 15yr Malvasia

Henriques & Henriques 20yr Verdelho
Sherry
La Guita Manzanilla

Lustau Pedro Ximenez "San Emilio" Dulce

Villapaes Oloroso
Bourbon
Buffalo Trace

Elijah Craig

Old Grand Dad Bonded

Wild Turkey 81

Bulleit

Angel's Envy

Knob Creek

Michter's US 1

Basil Hayden's

Baker's

Maker's Mark

Pappy Van Winkle's 10yr
Rye Whiskey
Rittenhouse Straight Rye

High West Double Rye

Wild Turkey 101 Rye

Bulleit Rye

Templeton Rye

Russell's Reserve 6yr

Michter's US 1

Knob Creek Rye
American Whiskey
George Dickel No. 8

Seagrams 7

Hilhaven Lodge

Charbay R5 Hop Flavored Whiskey
Canadian Whiskey
Canadian Club

Crown Royal
Single Malt Whiskey
Glenlivet 12yr

Ardbeg

Aberlur 12yr

Auchentoshan Three Woods

Balvenie 12yr

Glenfiddich 12yr

Highland Park 12yr

Macallan 12yr

Glenmorangie Quinta Ruban

Talisker 10yr

Balvenie 15yr

Highland Park 18yr

Talisker 18yr

Macallan 18yr

Macallan 25yr
Japanese Whisky
Suntory Toki

Fukano Rice Whisky

Kaiyo Mizunara Oak

Hibiki Harmony

Akashi Single Malt

Hakushu 12yr

Yamazaki 12yr

Hibiki 17yr

Akashi Sherry Cask

Hakushu 18yr

Yamazaki 18yr

Hibiki 21yr
Blended Scotch
Chivas 12yr

Dewars White Label

Monkey Shoulder

Johnnie Walker Black

Johnnie Walker Blue
Irish Whiskey
Bushmills

Jameson

Red Breast 12yr
Tequila
Tapatio Blanco

Jalisco

Espolón Blanco

Arandas

Fortaleza Blanco

Jalisco

Siete Leguas Blanco

Atotonilco

Patron Silver

Atotonilco

Don Julio Blanco

Atotonilco

Casa Dragones Blanco

Amatitán Valley

Clase Azul Blanco

Amatitán Valley

Tapatio Reposado

Jalisco

Siete Leguas Reposado

Atotonilco

Casamigos Reposado

Jalisco

Fortaleza Reposado

Tahona

G4 Reposado

Jalisco

Don Julio Reposado

Atotonilco

Clase Azul Reposado

Jalisco

Siete Leguas Añejo

Atotonilco

Don Julio Añejo

Atotonilco

Fortaleza Añejo

Tahona

Patron El Alto

Atotonilco

Don Julio 1942

Atotonilco

Casa Dragones

Amatitan Valley

Herradura Tequila Seleccion Suprema
Mezcal
Del Maguey VIDA "Espadin"

Oaxaca

El Silencio "Espadin"

Oaxaca

Ilegal Joven "Espadin"

Oaxaca

Ilegal Reposado "Espadin"

Oaxaca

Del Maguey Chichicapa "Espadin"

Oaxaca

Quiereme Mucho "Espadin"

Oaxaca

Quiereme Mucho

Tobalá

Quiereme Mucho

Cuishe

Quiereme Mucho

Tepextate

El Buho "Tepeztate"

Oaxaca
Rum
Appleton Estate

Jamaica

Banks 5

Jamaica/Trinidad/Guyana

Barbancourt 5 Star

Haiti

El Dorado 12y

Guyana

Gosling's Black Seal,

Bermuda

Lemon Hart 151

Guyana

Mount Gay Eclipse

Barbados

Myers's

Jamaica

Ten-to-One

Caribbean

Plantation 3 Star

Barbados/Jamaica/Trinidad

Plantation Pineapple

Barbados/Jamaica/Trinidad

Plantation OFTB

Barbados/Jamaica/Trinidad

Banks 7

Panama/Guatemala/Jamaica

Smith & Cross Jamaica Rum

England

Wray & Nephew

Jamaica

Flor de Caña 12yr

Nicaragua

Diplomático Reserva Exclusiva

Venezuela

Mount Gay XO

Barbados

Santa Teresa 1796

Venezuela

Ron Zacapa Centenario 23yr

Guatemala

El Dorado 21y

Guyana

Mount Gay 1703

Barbados
Cachaça
Avuá Prata

Cachaça 51

Leblon

Leblon Reserva Especia

Avuá Amburana
Gin
Roku

Japan

Gordon's

U.K.

Beefeater

U.K.

Botanist

U.K.

E.S.P., Smoked

U.S.A.

Hayman's, Old Tom

U.K.

Perry's Tot, Navy Strenght

U.S.A.

Tanqueray

U.K.

Bol's Genever

Netherlands

Hendrick's

U.K.

Plymouth

U.K.

Bombay Sapphire

U.K.

Old Raj, Cadenhead's

U.K.

Old Duff Genever

Netherlands

Tanqueray 10

U.K.

Monkey 47

Germany
Vodka
Haku

Japan

Absolute

Sweden

Bak's Bison Grass

Poland

Charbay Lemon

U.S.A.

Charbay Grapefruit

U.S.A.

Charbay Green Tea

U.S.A.

Chopin

Poland

Belvedere

Poland

Ketel One

Netherlands

Tito's

U.S.A.

Grey Goose

France
Brandy
Lapostolle Pisco, Muscat Blend

Chile

Singani 63, Muscat of Alexandria

Bolivia
Cognac
Courvoisier VS

Hennessy VS

Courvoisier VSOP

Rémy Martin 1738 Accord Royal

Rémy Martin VSOP

Hennessy VSOP

Delamain Pale & Dry XO

Courvoisier XO

Martell Cordon Bleu

Rémy Martin XO

Hennessy XO

Hennessy Paradis
Calvados
Daron Fine

Busnel Hors d'Age 12yr

Boulard XO
Armagnac
Larressingle VSOP

De Montal XO
Grappa
Sarpa Di Poli

Gra'it

Berta Amarone

Marolo "Milla" Camomile Grappa
Aperitif, Asinthe, Pastis
Aperol

Italy

Campari

Italy

Montenegro

Italy

Italicus

Italy

Pernod

France

Ricard

France

Pernod Absinthe

France
Digestif, Liqueur & Cordial
Amaretto Luxardo

Italy

Averna Amaro

Italy

Braulio

Italy

Chambord

France

Fernet Branca

Italy

Frangelico

Italy

Lucano Amaro

Italy

Midori

Japan

Pimms No.1

England

Ramazzotti Amaro

Italy

St. Germain

France

Sambuca Molinari

Italy

Strega

Italy

Bailey's

Ireland

Benedictine

France

Grand Marnier

France

Chartreuse Green

France

Chartreuse Yellow

France

Grand Marnier Louis Alexandre

France